Innovative Housing Showcase and Pop Up Village Pulls Up Stakes on Washington DC's National Mall.
Submitted by Cristiane Roget, Sr. Correspondent AdAvenueGroup-Forbes France
Digital video replay IHS Washington DC June 1-5
https://www.youtube.com/watch?v=URkg7gkQnL4
For Photo replay : Google Search:  hud,flickr
https://www.flickr.com/photos/hudopa/page4
https://www.flickr.com/photos/hudopa/page5
Washington DC/ Exhibitors of the Innovative Housing Showcase rolled out on the lush and expansive National Mall, one short month ago under an azure blue Spring sky with an estimated 2500 participants entertaining and informing countless visitors about advances in the affordable home ownership modular and container dwelling arena. A public event and forum that invited the merely curious to tiny home converts into a modular village that appeared magically on the National Mall like a magical three ring circus.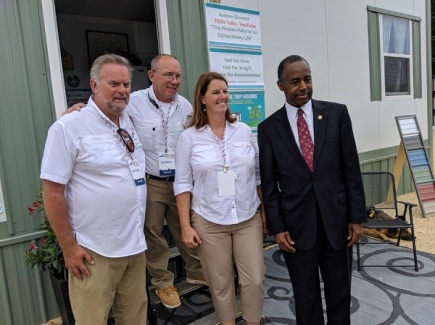 Exhibitors presented a well-rounded schedule of eye opening activities and interactive demonstrations that engaged an enthusiastic public. U.S. Department of Housing and Urban Development (HUD) and the National Association of Home Builders (NAHB) estimated 10,000 visitors stepped onto the pop-up village's 'welcome mat' over the course of the 5 day Innovative Housing (Solution) Showcase from June 1-5, 2019.
"Pulling up stakes, exhibitors with their eco habitats in tow headed out across America, were headed from sea to shining sea", quipped Alex Veranos, President and Founder of FoodFob (Fast Operational Building) Systems. The over 100 participating companies returned to cardinal points that include Maryville, Tennessee (MinMax Spaces) , Las Vegas , NV (Boxabl) and Mid-Florida (Core Housing Solutions) among them.
Summarizing Ben Carson's, Secretary General of HUD, comments during his Keynote Speech, "the time has come for housing programs that are person-centered with a holistic approach to solving a growing need for smart housing options ".
The reference to Henry Ford 's assembly like protocols in the build out of pre fabricated modular homes was often repeated. Business Development Director, Galiano Tiramani, said "The Boxabl ™ building system means we can have factory quality and prices without giving up customizability. Building construction can finally get the efficiency of Henry Ford's assembly line principles without compromising on room size and features".
Also on the forefront was Cavco, providing system built housing solutions. On display was one of the thousands of high quality, yet truly affordable homes they build each year. Their homes comply with the federal building code administered by HUD and are efficiently constructed with prime building materials to provide energy efficiency and long life," said Bill Boor, President of Cavco Industries, Inc..
Companies, leaders in the building industry and philanthropies participating in the Innovative Housing Showcase, "hold the key to a viable , affordable solution to the escalating housing crisis. Here is a powerful push back against the spiraling, global increases in housing costs. A dearth of safe habitats that impacts today's youth, their elders , marginalized workers and a dwindling middle class in the United States of America and at our borders and beyond can be resolved." says Greg McCullough and his associate Richard Schaffer of Prestige Equity Group, a company that is initiating financing solutions for aspiring home owners.
Tiny house master builder Andrew Bennett, real estate investor Shari Chatterton and city planner Bruce Chatterton have teamed up to found Core Housing Solutions ™.  In just their first year of operation, Core has built and delivered more than 30 durable compact houses to customers across the U.S. Core's houses are notable for their affordability, coming in at less than half the cost of tiny houses on the market today. Bruce Chatterton hopes that the Innovative Housing Showcase will spark action from local governments to change their approach to affordable housing. "Our best efforts to build new affordable housing and stem the loss of existing affordable units are not paying off" said Chatterton. "Local governments need to remove regulatory barriers that prevent truly innovative housing from being built and we are ready to partner with them."
Environmentally friendly lifestyles that embrace portable sustainable homes (that endure sometimes for over a century – the life expectancy of future generations) is "simply living smart , in-style while improving the bottom line for investors, developers, builders, and ultimately home owners," commented Gene Kinzer , of Entity Management Inc.. Kinzer is on the ground floor as an investor in InvestDirect.Club. The company is raising funds to advance these forward-thinking construction protocols, create jobs and stem the tide of houselessness, homelessness and the marginalized.
Photo : Vlad Kinzer the next generation of homes owners with HUD Secretary Dr. Ben Carson.
Chaplain and headline entertainer Jett Edwards II commented between takes on a new music video being filmed with the Washington Monument as a backdrop. 'Made in America', a soon to be released single served as the soundtrack, for the IHS Showcase. "The homes on display here today are popping up everywhere. They are built to scale and are the building blocks for happier families and healthier communities," confirmed Dr. Lydia the other half of the spirited duo.
New territory was explored by leaders in innovative building technology. Among the participants were Home Innovative Research Lab (HIRL) and the National Utility Contractors Association with the behemoth National Association of Home Builders, US Department of Housing and Urban Development and FEMA engaging with companies displaying prototypes. Attendees are on the front line of a paradigm shift from past century stick builders to today's mobile generation. The Media included Denise Dersin, Professional Builder Magazine , Laura Kusito of Wall Street Journal, Katy O'Donnel of Politico and correspondent from New-release.press/Forbes France covering the proceedings.
"The same generation that is thinking of their aging parents comes with a dose of common sense that goes into installing an ADU (Ancillary Dwelling Unit) in a back yard to keep them close. Attainable urban renewal in stackable five story, sleek mixed use complexes with roof top gardens are also leading the way", said Javier Cue, a modular home advocate and Vespa Miami Dealer, another eco friendly initiative.
Whether a world that is mobile by choice or in the throes of the latest Diaspora in Mexico, Syria or Liberia, science is meeting necessity and has come a long way since the tongue and groove log cabin. "How many people would be crushing the borders if they had a decent place to live and fresh tomatoes and a basil garden on the roof. ™ ?" queried Javier Cue, who constructed two container based modules in South Miami. "AirBnB , mobile modular's and prefab home alternatives are to the 'Gig' Generation what obsessing over an obscenely overpriced 'McMansion' was to ours." said Berek Dore , contractor and affordable home developer. This is the generation that is grappling with not only their own future , but that of their children. With a healthy life expectancy into the late 80's becoming the norm the aging of America and the plight of the elder population was grappled with at the Innovative Housing Solution Congress all day seminars.
American ingenuity and resourcefulness was on display in spades. The comprehensive agenda addressed the dire need for respectable and affordable housing while bracing for the onslaught of extreme weather. Underpinning the agenda was the importance of habitat resiliency in the face of environmental 'Acts of God ' and 'Man-Made disasters' here and abroad has never been greater.
"No one can underestimate the importance of rebuilding homes and commercial spaces in areas impacted by disaster or mitigating urban decline and land erosion with sea level rise. Safe and affordable housing plays an incalculable role in ameliorating suffering and regaining normalcy," commented Carolyn Schiffres, respected Washington DC Interior Designer, Daughter of the American Revolution and informed attendee.
Holmes Stoner, a Compact Modular Eco Home (www.co-modeco.com) advocate and Ambassador at Large for the Pacific Rim Business Council, has for over a decade cobbled together joint trade agreements to produce massive mobile housing projects with manufacturers in China, Korea and Viet Nam. He concurred with Secretary Carson, "that these building protocols are a real game changer. As is our nature to err on the side of caution, it is understandable that modular building has been embraced by Northern Europe, Asia and India before North Americans jumped on the gravy train. America's 'can do' spirit has always relied on incorporating the best that innovation and technology from wherever it originates. We are at our best at branding it as Made in America. Bigger. Better. Faster is the American Way and with these houses the whole world stands to benefit."
Container homes built by outliners began springing up within months after the Great Recession's mortgage meltdown. Conventional housing became unattainable by 100's of thousands with many facing a bleak future of "houselessness". Much of the first wave of fabricated housing solutions was born out of necessity, the mother of invention.
The need for affordable housing alternatives continues to escalate. A grass roots trend has finally begun to take root in the highest echelons of government and in the private sector. The Feds are acknowledging there is a groundswell of affordable and resilient housing alternatives.  The debut of the premiere affordable and Innovative Housing Showcase and Conference saw, "American ingenuity and resourcefulness hard at work!"  Says Holmes Stoner, Founder of Pacific Rim Business Council and Co-Modeco.com. Stoner flew in from Beijing to attend what was a perfect week in the nation's capitol. The lush National Mall unfurled under crystal clear blue skies and concluded with a shower storm of lightning and thunder bidding the Innovative Housing Showcase a rousing farewell until next year.
Word count 1463
Cristiane Roget
Sr. Correspondent
AdAvenueGroup-Forbes France
310-220-9118
Need link to Chip's Production Company PHOTOS and VIDIO CLIP.
Photo Replay:
https://www.flickr.com/photos/hudopa/
https://www.flickr.com/photos/hudopa/page5
Innovative Housing Showcase Submitted by AdAvenueGroup and associated news outlets
We are the Container Mod Media experts. AdAvenueGroup.com Google Co-modeco ! Our rankings are ALL ORGANIC 4 years in the making!